Features
•
India Today
July 30, 2007
Image | PDF
•
WOW!
July 2007
Image | PDF
•
080
July 06, 2007
Image | PDF
•
Mumbai Mirror
June 17, 2007
Image | PDF
•
Hindu Metro Plus
June 13, 2007
Image | PDF
•
Mid-Day
June 12, 2007
Image | PDF
•
Sunday Times
June 10, 2007
Image | PDF
•
Bangalore Bias
June 08-10, 2007
Image | PDF
•
The Hindu
June 09, 2007
Image | PDF
•
City Express
June 09, 2007
Image | PDF
•
Deccan Herald
June 09, 2007
Image | PDF
•
Deccan Chronicle
June 04, 2007
Image | PDF
•
Hyderabad Times
June 03, 2007
Image | PDF
•
Eenadu
June 02, 2007
Image | PDF
•
Man's World
May 2007
Image | PDF
•
Deccan Chronicle
April 8, 2007
Image | PDF
•
WOW!
March 2007
Image | PDF
Bestseller Lists
•
Deccan Chronicle
July 08, 2007
Image | PDF
•
WOW!
July 2007
Image | PDF
•
Deccan Chronicle
July 01, 2007
Image | PDF
•
Deccan Chronicle
June 24, 2007
Image | PDF
•
Deccan Chronicle
June 17, 2007
Image | PDF
•
Deccan Chronicle
June 10, 2007
Image | PDF
•
Deccan Chronicle
June 03, 2007
Image | PDF
•
Deccan Chronicle
April 29, 2007
Image | PDF
•
Deccan Chronicle
April 22, 2007
Image | PDF
•
Deccan Chronicle
April 8, 2007
Image | PDF
•
Deccan Chronicle
April 1, 2007
Image | PDF
•
Deccan Chronicle
March 25, 2007
Image | PDF
•
Deccan Chronicle
March 18, 2007
Image | PDF
•
WOW!
March 2007
Image | PDF



"The book makes good reading and is packed with useful information."
- Khushwant Singh
"..fast-paced, educative, enlightening and entertaining.... each chapter is a brilliant essay.... a rip-roaring read... the funniest book on sex I've read...and it's dead serious."
- 080
"..a collection of educative articles on sexual issues written in a snappy, anecdotal style."
- Outlook
"Dr. Sudhakar Krishnamurti's book - Sex is Not a Four-Letter Word, deals with real life issues and narrates real life incidents through amusing anecdotes."
- The Hindu
"Dr. Krishnamurti tackles the tricky topic of sex education with humour and èlan."
- Deccan Chronicle
"Real life accounts are presented with just the right touch of humor. It never degenerates into obscenity."
- Asian Age
"Everything you always wanted to know about sexual dysfunctions but were either afraid to or did not know whom to ask."
- The New Sunday Indian Express
"To be completely honest, as a woman, I found the book unputdownable."
- Bangalore Mirror
"The book is un-put-downable as it has been narrated in such a way as to make you laugh and learn at the same time."
- Mid Day
"The heavy-duty credentials of the author, and, of course, the snappy, conversational style in which he delivers his wisdom, dotted with puns and one-liners, makes this book interesting."
- Housecalls
"Very, very informative even for seasoned people who assumed they knew it all."
- on GoodReads
"It certainly makes me understand my husband better."
- on GoodReads
Also:
Crossword Dial-A-Book
(major cities in India)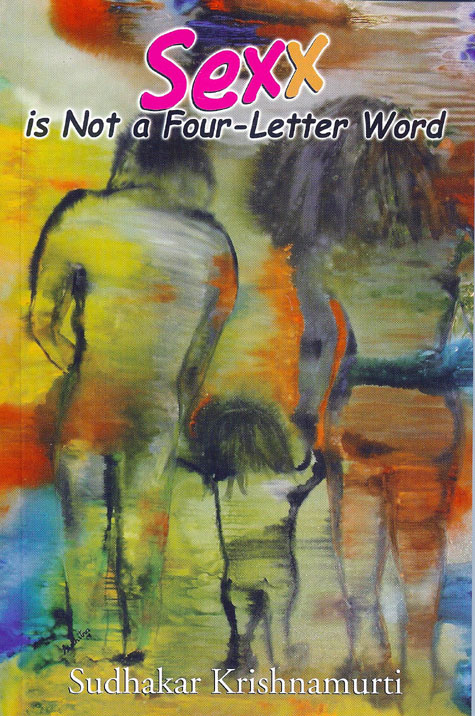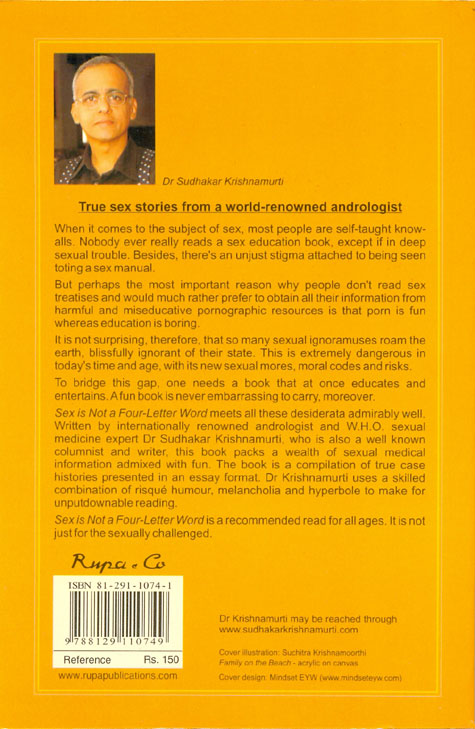 Book Reviews
•
080
July 06, 2007
Image | PDF
•
Eenadu
June 19, 2007
Image | PDF
•
Bangalore Mirror
June 12, 2007
Image | PDF
•
Deccan Chronicle
June 06, 2007
Image | PDF
•
The Asian Age
June 06, 2007
Image | PDF
•
Deccan Chronicle
June 06, 2007
Image | PDF
•
The Asian Age
June 06, 2007
Image | PDF
•
New Swatantra Times
April 2007
Image | PDF
•
Housecalls
March 2007
Image | PDF
•
Outlook [Books]
February 26, 2007
Image | PDF
•
Telegraph, Calcutta
Khushwant Singh
February 17, 2007
Image | PDF
•
New Sunday Express
February 4, 2007
Image | PDF
•
Hindu Metro Plus
January 22, 2007
Image | PDF