Visit our Sponsor
A G A S S I
'Ageing, Gender, Andrology, & Sexual (Sciences), Society of India'


Though ejaculation often occurs normally and is an intensely pleasurable sensation for most men, it is an extremely complex phenomenon that is regulated by many different systems. Hence, things often can, and do go wrong.

Impotence often comes without warning and can strike even the most virile stud like a bolt of lightning.
How much of a risk do you face ?
CHECK IT OUT HERE


1st AGASSI & 2nd Scientific APSSM Conference
Click here

Sex is man's second strongest instinct. An instinct that is second only to the survival instinct. This means that if a man's life is not immediately imperilled, the next thing he will automatically think of is sex.
from
WHAT EVERY ADULT NEEDS TO KNOW ABOUT IMPOTENCE


The vacuum device is an external, non-invasive treatment option for impotence.
This device is available for purchase through this site.
Please Contact Us
More Information on non-invasive treatment options. More Details

Before the advent of andrology, it was both thought and taught that impotence was psychological in origin. Epoch-making andrologic research in the past decade has shattered this myth and today it is known that in 80-90% of such cases, there is a physical (organic) cause rather than a purely psychological (functional) one.
from
THE SCIENCE OF ANDROLOGY

We've all heard of the barren wife. But what of barren husbands ? Can male infertility be cured ? The wife visits her gynecologist...so who is the husband supposed to consult ?
find out in THE MALE FACTOR IN INFERTILITY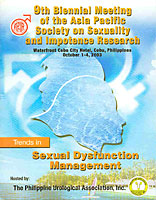 9th Biennial Meeting of the Asia Pacific Society for Sexual and Impotence Research
Cebu, Philippines: October 1 – 4, 2003
The 9th APSSIR meeting was conducted under the able overall chairmanship of Dr. Jesus Benjamin L. Mendoza and the scientific chairmanship of Dr. Eduardo R. Gatchalian. In all, there were eighteen plenary sessions, seven free paper sessions, four industry-sponsored symposia, and ten scientific posters.

Chairman Dr. Jesus Benjamin L. Mendoza addresses the gathering

Prof. Jacques Buvat, France, the ISSIR President, addresses the gathering

The chief consultant of www.andrology.com, Dr. Sudhakar Krishnamurti, was invited to deliver a lecture on `Peyronie's Disease

Farewell Cocktail - L to R: Young Chan Kim (Korea), P.G. Adaikan (Singapore), Sudhakar Krishnamurti (India)

Local dancers entertain delegates at the Eli Lilly Icos sponsored dinner

After Hours - Prof. P.G. Adaikan, the ISSIR President-elect, shakes a leg
Do you know of any upcoming conferences/events not listed here ?
Please send us an email for a free listing. Thank you.

Home | News | Main Articles | Agassi | Special Features
Upcoming Events | In A Lighter Vein | Contact Us